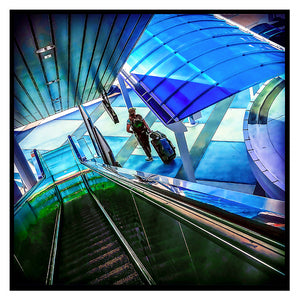 "Coming off of a difficult time, change may become a necessity. It can be a beautiful walk into the unknown, or an ominous run from that which we have known. This fleeting scene would become my contemplation, after I descending that escalator to enter the Oakland Airport, California." Julie

My process:  "After capturing this visual treasure in my camera, I then distilled it down digitally, unveiling its essence, by artfully altering its form, colors, shapes, and cropping it into a composition. This image draws on my love of the rugged textures of the aged and industrial character of architecture. The unique edging on this image enhances my distinctive altering process. 
Free and safe shipping!
Printing and shipping time varies based on size and presentation, usually between 7-31 days.
All prints are digitally signed and numbered.
All art pieces are as (very) limited editions of 60 or less.

Prints are usually sized to fit openings of standard-sized frames found in stores like Michael's and Hobby Lobby.

Paper Print - Images are printed in giclée style on white Premium Archival Lustre semi-gloss paper using archival inks that show vivid authentic colors. Plenty of white space is added around the image allowing a natural (faux) mat that fits the frame opening. My printers are green certified.
Canvas Wrap - Image is vibrantly printed on textured canvas cloth, sealed to a fade-resistant satin finish, and stretched tight around a wood stretcher-frame. Depth of stretcher 1.5-2.0" depending on size. Made in USA.
Artistic Variations Available - Anything is possible! I can transform this into a lovely black and white versions or any other customized color scheme to match your space and style. Prices are very comparable. Email your request. 
LARGE sizes to 60x40" Canvas "murals" to 9x9" plaques.
Email your requests: Julie@ARTrgeousStudio.com