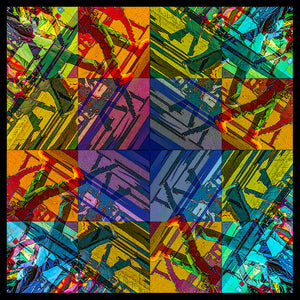 "Harmonious rainbow colors celebrate diversity of all walks of life, all walking in different directions. The darker center and lighter outer edges reveal a target motif symbolizing their collective journeys, the commonality of all walking toward their destinations and ultimately their fates." Julie

My process: "After capturing the visual patterns and lines in the apt of the DCA ceiling, I then repeated and distorted the image digitally, unveiling its unique geometric character, by artfully altering its form, colors, shapes, and composition. The unique edging on this image enhances my distinctive altering process. 
Free and safe shipping!
Printing and shipping time varies based on size and presentation, usually between 7-31 days.
All prints are digitally signed and numbered.
All art pieces are as (very) limited editions of 60 or less.

Prints are usually sized to fit openings of standard-sized frames found in stores like Michael's and Hobby Lobby.

Paper Print - Images are printed in giclée style on white [off-white] Premium Archival Matte (heavy no-shine) [Lustre (semi-gloss)] paper using archival inks that show vivid authentic colors. Plenty of white space is added around the image allowing a natural (faux) mat that fits the frame opening. My printers are green certified.
Canvas Wrap - Image is vibrantly printed on textured canvas cloth, sealed to a fade-resistant satin finish, and stretched tight around a wood stretcher-frame. Depth of stretcher 1.5-2.0" depending on size. Made in USA.
Artistic Variations Available - Anything is possible! I can transform this into a lovely black and white versions or any other customized color scheme to match your space and style. Prices are very comparable. Email your request. 
LARGE sizes to 36x36" Canvas "murals" to 9x9" plaques.
Email your requests: Julie@ARTrgeousStudio.com