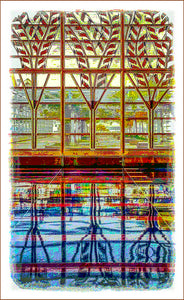 "Looking south through the grand 2-story class window at the Ronald Reagan International Airport in DC, I spot the lovely textures of wisteria vines are in full bloom. Couple that with the stylized patterns dividing the glass windows and an unique abstraction comes into play. ." Julie

My process: "After capturing the visual patterns and lines in the apt of the DCA ceiling, I then repeated and distorted the image digitally, unveiling its unique geometric character, by artfully altering its form, colors, shapes, and composition. The unique edging on this image enhances my distinctive altering process. 
Free and safe shipping!
Printing and shipping time varies based on size and presentation, usually between 7-31 days.
All prints are digitally signed and numbered.
All art pieces are as (very) limited editions of 60 or less.

Prints are usually sized to fit openings of standard-sized frames found in stores like Michael's and Hobby Lobby.

Paper Print - Images are printed in giclée style on white [off-white] Premium Archival Matte (heavy no-shine) [Lustre (semi-gloss)] paper using archival inks that show vivid authentic colors. Plenty of white space is added around the image allowing a natural (faux) mat that fits the frame opening. My printers are green certified.
Deckled Paper Print - This is my best presentation! I gently deckle the paper's edge to further accent my unique image edging." I then elevate it on a foam-core creating a drop-shadow on the provided white back-drop. Spacers are also provided for the frame opening.
Matted Print - The print is attached to the back of a white [black with black full] bevel-cut mat, 4-ply acid-free. The mat's outside is cut to fit a standard frame size.
Canvas Wrap - Image is vibrantly printed on textured canvas cloth, sealed to a fade-resistant satin finish, and stretched tight around a wood stretcher-frame. Depth of stretcher 1.5-2.0" depending on size. Made in USA.
Artistic Variations Available - Anything is possible! I can transform this into a lovely black and white versions or any other customized color scheme to match your space and style. Prices are very comparable. Email your request. 
LARGE sizes to 60x40" Canvas "murals" to 9x9" plaques.
We'll Frame it For You - Right here on this site! For this separate sale, see our Framing page. Any style and size!  To frame this art, use this link: 1:1.33 Ratio Frames. From a 60x40" wrapped canvas floating in a studio frame to an 11x14" printed on metal, we'll create just the right look for your space.
Email your requests: Julie@ARTrgeousStudio.com