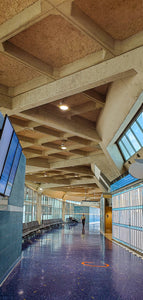 "So many memories of reunions, holidays, excitement to venture up and out, and the joy and comfort of a safe return! This award-winning architecture made our experience quick, easy, beautiful when looking up, looking out and even looking down. We will miss our old KCI."  Julie

This vertical format provides interest for those awkward vertical spaces at the end of hallways, between windows and doors, and the at the base of a stairwell."
My process: "After capturing this visual treasure in my camera, I then distilled it down digitally, unveiling its essence, by artfully altering its form, colors, shapes, and composition. This image draws on my love of watercolor art and its light airy colors, the friendly colors of a friendly city. The unique edging on this image enhances my distinctive altering process. 
Free and safe shipping!
Printing and shipping time varies based on size and presentation, usually between 7-31 days.
All prints are digitally signed.
All art pieces are as (very) limited editions of 60 or less.

The paper print option will need a custom frame. Thin black studio frame with a mat is recommended.
My canvas wrap option provides a black printed "frame" appearance on front and side edges, making it a great value.

Paper Print - Images are printed in giclée style on white Premium Archival Matte paper using archival inks that show vivid authentic colors. Plenty of white space is added around the image allowing a natural (faux) mat that fits the frame opening. My printers are green certified.
Canvas Wrap - Image is vibrantly printed on textured canvas cloth, sealed to a fade-resistant satin finish, and stretched tight around a wood stretcher-frame. Depth of stretcher 1.5-2.0" depending on size. Made in USA.
Other Sizes and proportions available - Upon request. Often a bit of the edges might be cropped, and the composition remains strong. Reasonable prices throughout.
Email your requests: Julie@ARTrgeousStudio.com