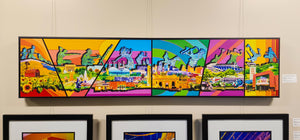 "Currently my favorite piece! This is one of my many studies I created for submitting artwork to be placed in the new KCI Airport Gate area. A dynamic and spirited KC skyline anchors all the energized people, colorfully silhouetted with maps of their city. My six thematic sections include: Midwest Prairie, Midtown, Crossroads, Uptown, KC Sports, 12th of Vine. While my final version didn't make it into the airport, I do  like this one, and it could easily make it into your space, bringing a wonderful visual celebration of the many great aspects of the city we love!"  Julie

A GREAT addition above a couch or bed or under those long, high windows in Mid-Century style architecture.
Thanks for exploring this piece in my Nativity Art Show Fall 2023!
- 14h x 60w"
- All prints are digitally signed.
- 1 of a 3-part series, "Kauffman Center Fine Arts Colors" Discounted price for all 3: $525.00, link: [Set of 3]
- Limited edition of 24 or less. Julie ends printing after 24 prints, on ALL her art.
- Printed in Austin: Using quality ink jet pigment colors printed locally on strong cloth canvas prepped to receive a wide range of vivid colors and fine details. Julie brings acute collaborative attention to color and clarity between her and her printer. The stretched around a strong wood frame stretcher, and wired.

Online purchasing can happen HERE, of art works currently hanging in the show.
Purchased art can be taken home immediately if desired, no need to wait.
Just please let me know so the curator and I can replace the empty spot for the exhibition. I can also delivery it to you free of charge, either right away or, if you might prefer letting it be seen through the endo f the exhibition (1st week of December). 
Julie@ARTrageousStudio.com, 913-710-6804

Come enjoy the exhibition in person:
Church of the Nativity: 3800 W 119th St., Leawood KS 66208
Hours: M-F 9-4:30 Weekends after Masses: SAT 5:00pm, SUN 7:30am, 9:00am, 11:00am, 5:00 pm, Through 1st week in December.
My Artful process: "After capturing this visual treasure in my camera, I then distill it down digitally, unveiling its essence, artfully altering, repeating and transforming its forms, colors, shapes so that the comes alive with a dynamic power greater than the some of it's parts." Julie
More print options for this artwork are shown on an additional website page in my "Kansas City" Collection.
https://www.artrageousstudio.com/collections/kansas-city-1

VARIATIONS AVAILABLE FOR ORDER:
Artistic Variations Available - Anything is possible! I can transform this into a color scheme of your liking and/or space, from cool tones to warm, from subtle colors to a lovely black and white. Even edges can be cropped for varied proportions. Email your request. Adjusted prices are very comparable. 
Paper Print - Images are printed in giclée style on white Premium Archival Lustre semi-gloss paper using archival inks that show vivid authentic colors. Plenty of white space is added around the image allowing a natural (faux) mat that fits the frame opening. My printers are green certified.
Matted Print - The print is attached to the back of a black bevel-cut black-filled mat, 4-ply acid-free. The mat's outside is cut to fit a standard frame size.
Canvas Wrap - Image is vibrantly printed on textured canvas cloth, sealed to a fade-resistant satin finish, and stretched tight around a wood stretcher-frame. Depth of stretcher 1.5-2.0" depending on size. Made in USA.

I'll Frame it For You - Any style and size! From a 64x40" wrapped canvas floating in a studio frame or a deckled print floating in shadow-box frame. I'll create a presentation just the right look for your space.
Email your requests: Julie@ARTrgeousStudio.com, Or Call/Text: (913) 710-6804